1 – Fiberglass Collection
Dad gave me a Garcia Conolin fiberglass fly rod with a old Pfluger reel in 1957. Of course it used a HCH line, and for leader I used monofiliment from my spinning reel. This didn't change until the late 60's, and I didn't have a graphite rod until the early 80's. Somewhere along the line I adv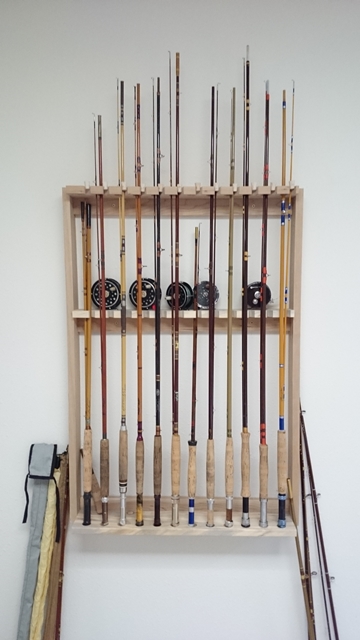 anced to tapered leaders and acquired a couple other fiberglass rods. With many graphite, "Carbon", rods in the quiver today, I still prefer the slower actions, and I am known to over-line the fast Carbons to slow them down.
Recently after 50 years of fly fishing I came upon a vintage Wright-McGill uncut fiberglass, "Glass", rod blank, and built it into a nine weight rod to keep in the truck for carp fishing emergencies. It is a damn good rod, too good to leave in the truck, and it has proven itself casting heavy core shooting heads and landing twenty plus pound salmon. I picked up a few more W-M blanks, built a spigot ferruled five weight, and found myself reconnected to "Glass".
Glass and I were both born in the late 40's. By age thirty Glass had peaked and was being replaced by Carbon. It was the prominent Glass makers like Fenwick that were introducing carbon rods, and for good reason – they had developed all the technology. By the late 70's the performance per dollar calculus gave Carbon an advantage over Glass just as it had Glass over bamboo in the late 40's. But, Glass is still around, and gaining in popularity. Old manufactures like Orvis and Fenwick have reintroduced Glass to their product lines, and a respectable number of custom rod makers are producing glass rods made from modern blanks. We hear fly fishers say, "I like the slower delicate action of fiberglass and it durability compared to today's fast graphite." For many, myself included, Glass and Carbon both have their place in the quiver, and I choose to fish one or the other to enhance the day's experience.
Having this experience and history in mind, I am setting out to build a noteworthy collection of glass rods. My goal is to represent the evolution and history of Glass. I am planning less than two dozen rods representing the evolving fiberglass technology and examples of the upper end products of the predominate manufacturers. I will stick with the vintage rods that are fishable. I don't want a rod too good to fish, and for the purpose of the collection, I will avoid contemporary Glass.
Fly rods are a true American story. From the development of split cane in the mid 1800s to today's carbon rods, it all happened right here in the US. Fiberglass was right in the middle. Wrapping glue impregnated fiberglass fabric over a mandrel, epoxy development, spigot and tip-over-butt ferrules, and designed hollow tube tapers are Glass technologies. Modern Carbon rods rose from improvements in material technology allowing rods to be stiffer ("faster"), lighter, and less durable because of thinner wall thickness. But, today's high tech graphite rod makers stand on the shoulders of the fiberglass rod developers who came before them.
Finally, I will build the best glass rod that today's technology will allow, starting with a CTS blank from New Zealand. There are other great blanks available, but my research lead to CTS. Will it out perform the best of the vintage glass rods? Follow along as I build the collection and the new rod.

Print This Post