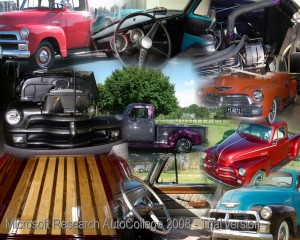 The 54 Chevy pickup body style existed in 1954 and the first half of 55.  Its grill is the most distinguishing feature.  The bed was 2 inches deeper with flat bed side tops, and the front windshield was one piece.
The engine was a 235 cubic inch six, and there was a Hydra-matic automatic option for the first time.  It was the last year for the 6 volt electrical system and the enclosed drive line.  It was also the last year of two round dash gauges.
The 265 cubic inch V8 became optional in the second half of 55.
The 54 had an optional, now rare, Chrome Eagle hood ornament; but not to worry, you can have one for $279.95.   All parts are available.  You could build one from a catalog.  Oddly, some after market additions like radios are available for pre and post 54's.