It was a father-daughter thing, secondary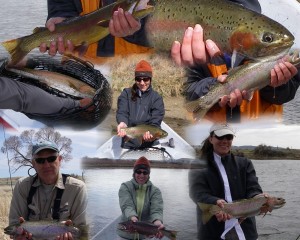 to a fishing thing, when Cody and I fished the Gray Reef Monday and Tuesday.  The Reef is a section of the North Platte River up stream from Casper Wyoming.  It's an extraordinary Rainbow fishery.  This is spawning season, and every bit of water less than four feet deep without muddy bottom is crowded with Reds (spawning beds).  The 15 inch plus trout can be seen on the beds.  This is true of the entire eight miles we floated.  The Reef is a floating river because the surrounding land is private.  You can float, but you can't touch bottom.  There is one stretch of public access that is closed during spawning.
We fished with Pet Mott (TroutTrickers), a guide new to me, but one that Cody had fished with several times on the Colorado and Roaring Fork in Colorado.  Pet is a master with his boat.  He knows the water, fish, and their behavior.  Pet kept us on fish, and we hooked over thirty Monday and twenty-six on Tuesday.  Three quarters were boated, and only three were less than fifteen inches.  A half dozen were twenty plus inches.  Cody out fished me on Monday, but I held even on Tuesday.  I told Pet, "If you are fishing with Cody, you have to be on your game to be in the game."
The game in Wyoming is governed by the weather and the fish.  Pet fished in a snow storm on Sunday.  We had flurries on Monday, and clear sky on Tuesday.  80 mph gusts were predicted for Wednesday.  Pet described fishing the Reef as technical.  That means presentation is everything.  The fly has to be at the right depth, where the fish are, and without drag.
We drifted flies under a strike indicator.  I watched the indicator to assure that it floated with the foam and bubbles.  I knew the distance between the indicator and the fly line, and tried to assure that the gap I saw in the water was less than the known distance.   It's an interesting partnership floating with a guide.  The fisherman manages the drift and watches for often very light strikes.  The guide can watch the river, so you hear, "cast left, cast right, mend your line, Cody you're in too close, Jim you're out too far."  Success is measured by fish in the net and learning.
We fished two rigs, deep and shallow, with split shot under the indicator and two or three flies after the shot.  The smallest nymph is on the end.  I am never less than amazed at the size of fish size of fish, five or six pounds, that will hit a fly 3/8 of an inch long — and we landed them.  Did I mention what flies we used?  Perhaps I won't.
Added note, 29 April: fish population in 2009 was 1200 trout per mile.  This is down from 2008 at 2100 trout per mile.  The loss is due to spawning failure in 2007.  There is further detail at http://gf.state.wy.us/services/news/pressreleases/10/02/16/100216_1.asp.