A second coat of Epoxy Primer had to occur within 24 hours.  There were a few missed spot and a few with light coats, so I set up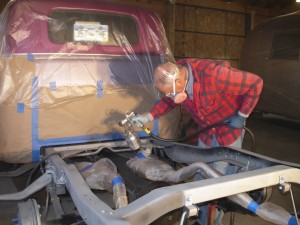 again today.  The hardest part about frame painting is getting the gun in position.  It would be easier without the exhaust system.  I'm told that the epoxy will gray if it's in the open exposed to sun light.  This truck will live in the barn and the frame is under the body, so I will leave it as is.  Otherwise, I would have needed to put a paint coat over the epoxy primer.  I will also use this primer inside the fenders and under the hood — no sun light problems.
I didn't mention it before, but modern automotive paints and primers require a good filtered mask.  Some have permanent accumulative effects, so don't skimp.